Wayback Burgers Gobbles Up Final Space at Market Park San Jose
Home
Wayback Burgers Gobbles Up Final Space at Market Park San Jose
Market Park Retail Center Sells Out!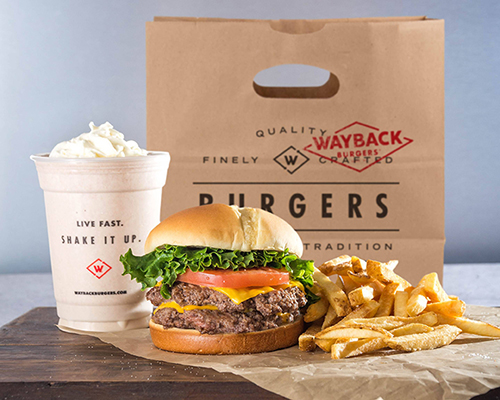 Wayback Burgers is a highly successful fast-casual franchise known for its juicy burgers and hand-dipped milkshakes. Also on the menu are yummy cheesesteaks, hot dogs, chicken sandwiches, chicken tenders, fries (with or without various toppings), onion rings, mac and cheese bites, and even salads — as well as ice cold drinks.
And now, Wayback Burgers is coming to a location near you! The newest Wayback Burgers will be opening at 1477 Berryessa Road in a 1,485 sq. ft. store in Unit 15 of the Market Park San Jose retail center.
Wayback has dramatically upscaled the fast-casual concept. The chain recently completely redesigned its kitchens — including putting the flattop grill front and center so customers can see the grill cook at work and smell those smells in anticipation of the tasty fare to come.
In the dining area for those choosing to eat indoors, Wayback has added welcoming finishing touches that take diners back to the chain's burger-shack roots — installing tan tile floors with dark blue mini tiles in the entries and upgraded furnishings such as booths, upholstered banquettes, floating tables, and a community table. There are some playful elements as well, including a Wayback clock set at five minutes before noon with the second hand running backward.
Wayback Burgers has locations across the U.S. and Canada and around the world, from Ireland to Japan. But this will be only the second location in the Santa Clara Valley.
The procuring broker for the Wayback Burgers transaction was Mario Longobucco of Coldwell Banker Commercial based in Danbury, Connecticut.
---
Retail Center Is a Complete Sellout
The Market Park San Jose retail center is now a total sellout. The 101,000 sq. ft. Safeway-anchored center in the mixed-use, 120-acre community adjacent to the Berryessa BART station has no more units available at this time.
Other opportunities may be available in ground-floor retail spaces in both the North Village and in the community's 63-acre South Village, which is now under development. Here's a complete list of Market Park retail tenants:
Safeway, 65,000 sq. ft. store
Safeway fuel station and convenience market
CVS Pharmacy, 13,100 sq. ft. store
Chase Bank, 4,000 sq. ft. branch
Carbon Health, 2,650 sq. ft. medical clinic
Rosie Nails Spa, 2,375 sq. ft. nail salon and spa
100% Chiropractic, 1,865 sq. ft. full-service wellness clinic
Pizza My Heart, 1,650 sq. ft. store
Firehouse Subs, 1,500 sq. ft. sandwich shop
Wayback Burgers, 1,485 sq. ft. store with burgers, milkshakes and more
SomiSomi, 1,100 sq. ft. Korean-style soft-serve ice cream shop
Shihlin Taiwan Street Snacks, 936 sq. ft. fast-casual restaurant
Sharkey's Cuts for Kids, 915 sq. ft. hair salon just for kids
CoCo, 716 sq. ft. bubble tea and juice store
---
South Village Offering Now Available
Complementing the nearly fully developed North Village, the 63-acre Market Park South Village is now on the market.
The fully entitled, mixed-use development site that's just walking distance from BART represents a generational opportunity for commercial and residential developers, homebuilders, major corporations looking for a prestigious Silicon Valley location, and retailers that want to be part of this vibrant community. Check out the South Village site plan here.
When fully developed, Market Park San Jose will include:
Up to 4,450 residential units (1,000 already built in the North Village)
Planned headquarters-class offices and commercial space ranging from 1.5 million sq. ft. to as much as 3.4 million sq. ft. of available space
North Village retail center, plus additional street-level retail and dining throughout
The community entry plaza adjacent to the BART station, neighborhood parks, walking and bicycle trails, and greenbelt areas
BART and VTA bus service, plus a future freeway interchange at Berryessa Road and Highway 101
For more information, contact: Ralph Borelli: (408)-521-7117, BRE License #00465691