Stores to Hold Grand Openings at Market Park Retail Center
Home
Stores to Hold Grand Openings at Market Park Retail Center
Time to cut the ribbons! The first stores and other businesses are beginning to welcome customers at the brand new 101,000 sq. ft. retail center at Market Park San Jose in the Berryessa area of North San Jose.
"We're excited to open this long-awaited community resource to serve local residents and businesses," says John Garcia, director of business and land development for The Flea Market, Inc. "Berryessa has been underserved from a retail perspective for many years, so the Market Park retail center truly fills a need."
Several retailers and a healthcare clinic are set to open their doors for the first time in the coming weeks, with many more to follow:
CVS Pharmacy — Grand Opening April 18th • A 13,100 sq. ft. pharmacy, drug store and provider of healthcare services
Safeway — Grand Opening April 28th • Our 65,000 sq. ft. anchor store with a full selection of groceries and many other items
Carbon Health — Grand Opening in late April or early May • A 2,650 sq. ft. primary care clinic designed to provide a hassle-free healthcare experience
Chase Bank — Grand Opening in July • A 4,000 sq. ft. branch offering a full range of financial services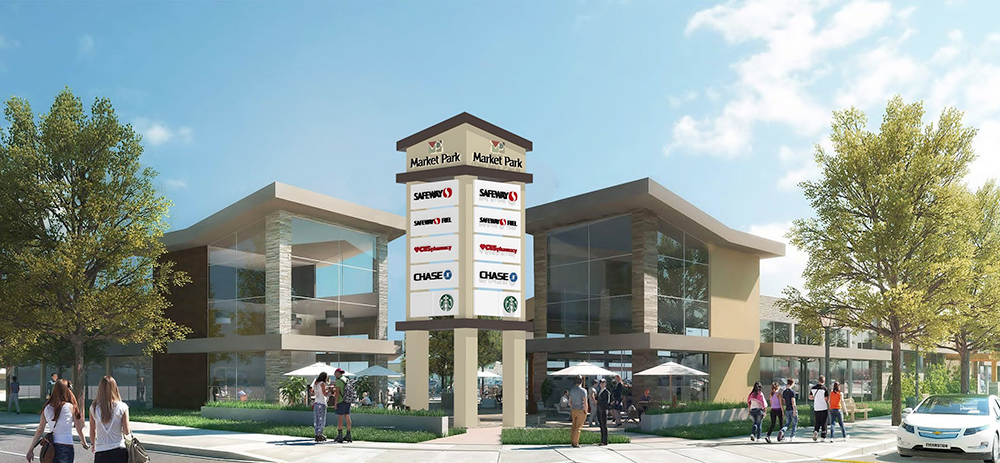 Other retailers busily readying their stores include Dunkin', a 2,038 sq. ft. Next Gen store offering a variety of baked goods, breakfast sandwiches and premium beverages; SomiSomi, serving up Korean-style soft-serve ice cream treats in an 1,100 sq. ft. shop; and CoCo, a global bubble tea brand that will offer fresh tea and juice from its 716 sq. ft. store.
Plus, there's a flurry of activity from other retailers and businesses that will soon be announced for much of the remaining 11,000 sq. ft. of space in the modern shopping center. Download the retail brochure for floor plans of available units.
Master-planned, Transit-oriented Mixed-use Community
Market Park San Jose is a forward-looking, $3 billion transit-oriented development (TOD), located on 120 acres in North San Jose.
Part of the City of San Jose's comprehensive Berryessa BART Urban Village plan, the community is being built in two phases: the North Village and South Village. Check out the South Village site plan. Market Park integrates housing, employment opportunities, retail, recreational and open space, and more — all within walking distance of the Berryessa BART station. Highlights include:
Up to 4,450 residential units (1,000 already in place)
Planned, headquarters-class offices ranging from 1.5 million sq. ft. to as much as 3.4 million sq. ft. of office space
The Safeway-anchored retail center in the North Village, plus additional street-level retail and dining throughout.
Neighborhood parks, a community plaza adjoining the BART station, walking and bicycle trails, and greenbelt areas
BART and VTA bus service just steps away, plus a future freeway interchange at Berryessa Road and Highway 101.
See Market Park from a drone's-eye view.
Time Is Running Out
Time is quickly running out on your opportunity to locate your store or business within Market Park's retail center. To learn more about the available units, contact Chris Anderson or Patrick Bumb today.
Chris Anderson • 408.453.4700 x134 • BRE License #01438895