Sharkey's Cuts for Kids Brings Its
Unique Style to Market Park San Jose
Home
Sharkey's Cuts for Kids Brings Its
Unique Style to Market Park San Jose

Forget those dreaded experiences dragging your littlest ones to get their haircut. The glum stares and rolled eyes when you tell your older kids it's time for a trim. Now, your kids will hardly be able to wait to go!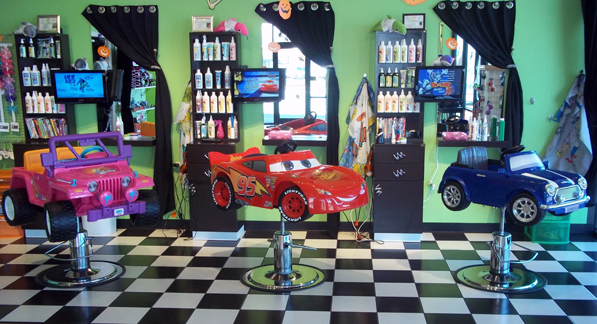 Sharkey's Cuts for Kids is bringing its one-of-a-kind haircut experiences to the Market Park San Jose retail center, located in the Berryessa area of North San Jose adjacent to the Berryessa BART station. The global chain targeted specifically to kids from 0–14 years old will open a new 915 sq. ft. hair salon in Unit 50 of the 1477 Berryessa Road building.
Founded in 2002 by Linda and Scott Sharkey, the award-winning just-for-kids chain has salons located across the U.S., Canada, Europe, and the Middle East. Sharkey's Cuts for Kids caters to busy parents who want a fun and entertaining haircut experience for their kids in a meticulously clean shop with warm, highly skilled stylists.
Younger children can get their haircut in a Dodge Police Cruiser, Barbie Jeep, McQueen Race Car, Fire Engine, or other unique station — while watching their favorite cartoons or Netflix. For older kids, they can pass the time playing Xbox One or PS4 on 40" screens. Parents can even book a unique birthday experience for their tween daughter and her friends, who will all be pampered while getting their hair done, make-up applied and a mini-cure.
The procuring broker for the transaction was Carol Therien of Retail Pacific Inc. in Walnut Creek.
---
One Final Space Available
The Market Park San Jose retail center in the sweeping community's North Village is now just one shop away from a sellout. A number of retailers are interested in the final space, so this is the last chance to locate a business in such a popular, high-traffic center. Interested parties should download the retail brochure and contact Chris Anderson right away!
Here's a complete list of tenants:
Safeway, 65,000 sq. ft. store
Safeway fuel station and convenience market
CVS Pharmacy, 13,100 sq. ft. store
Chase Bank, 4,000 sq. ft. branch
Carbon Health, 2,650 sq. ft. medical clinic
Rosie Nails Spa, 2,375 sq. ft. nail salon and spa
100% Chiropractic, 1,865 sq. ft. full-service wellness clinic
Pizza My Heart, 1,650 sq. ft. store
Firehouse Subs, 1,500 sq. ft. sandwich shop
SomiSomi, 1,100 sq. ft. Korean-style soft-serve ice cream shop
Shihlin Taiwan Street Snacks, 936 sq. ft. fast-casual restaurant
Sharkey's Cuts for Kids, 915 sq. ft. hair salon just for kids
CoCo, 716 sq. ft. bubble tea and juice store
---
South Village Offering Now Available
Complementing the nearly fully developed North Village, the 63-acre Market Park South Village is now on the market.
The fully entitled, mixed-use development site that's just walking distance from BART represents a generational opportunity for commercial and residential developers, homebuilders, major corporations looking for a prestigious Silicon Valley location, and retailers that want to be part of this vibrant community. Check out the South Village site plan here.
When fully developed, Market Park San Jose will include:
Up to 4,450 residential units (1,000 already built in the North Village)
Planned headquarters-class offices and commercial space ranging from 1.5 million sq. ft. to as much as 3.4 million sq. ft. of available space
North Village retail center, plus additional street-level retail and dining throughout
The community entry plaza adjacent to the BART station, neighborhood parks, walking and bicycle trails, and greenbelt areas
BART and VTA bus service, plus a future freeway interchange at Berryessa Road and Highway 101
For more information, contact: Chris Anderson • 408.453.4700 x134 • BRE License #01438895